Vanbrugh Park Road maisonette for sale: June 2019
One of the two-bed maisonettes on Vanbrugh Park Road is now on the market.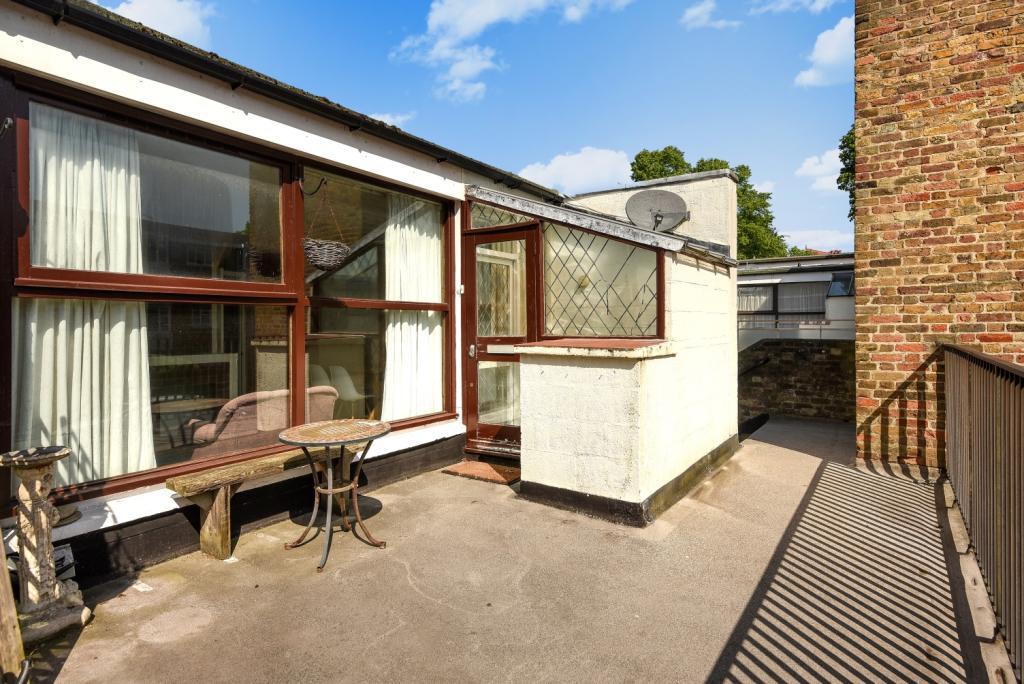 Situated at the end of the row it's still got the wonderful timber cladding throughout.

See the full listing.
All residents' meeting: June round-up
The minutes from June's all-residents' meeting are now ready to download.
Vanbrugh Park Estate summer party
Let's get together for an afternoon of games, face-painting, music and conversation. For kids and adults of all ages.
We'll bring out the barbecue, and provide food and soft drinks for all. We hope to see you there!

When
Saturday 13 July 2019
2–5pm
Where
On Westcombe Court and Combe Avenue lawns
Dates for the diary
Tuesday 18 June 2019
ALL-RESIDENTS' MEETING
Have your say on issues around the estate.
Saturday 13 July 2019
ESTATE SUMMER PARTY
Join us for food, drink and games below the tower. Everyone is welcome.
Saturday 31 August 2019
SEASIDE COACH TRIP
We're currently gauging interest for a trip to Broadstairs in Kent.

Unfortunately, we've had to cancel to the seaside coach trip due to lack of interest from residents.
We're considering a December trip to Canterbury instead. If you'd be interested in a visit to the cathedral and Christmas market please let us know: text 07946 507303 or email hello@vanbrughparkestate.com.
Make a difference on your estate
We're looking for new members to join the Vanbrugh Park Estate Residents' Association.
We meet once a month to discuss issues around the estate.
If you'd like to help please email hello@vanbrughparkestate.com. Or come along to one of our meetings:

VPERA MAY MEETING
Tuesday 14 May 2019 7:30pm
68 Combe Avenue
ALL-RESIDENTS' MEETING
Tuesday 18 June 2019 7:30pm
Mycenae House
Keep our estate clean
We need your help to reduce litter around the estate and ensure our recycling is effective.

DON'T CONTAMINATE YOUR RECYCLING
If you're unsure whether an item can be recycled, take it to the waste bin.
DON'T LEAVE BINS OVERFLOWING
If a bin is full, take your items to another one on the estate.
DON'T LEAVE BULKY ITEMS LYING AROUND
Take bulky waste to the designated areas: outside the caretaker's office and inside the bin store on the south-east corner of the estate.
Estate survey update
Late 2018
Residents request introduction of speed bumps, CCTV by the garages and marked car spaces.
Jan/Feb2019
VPERA conduct estate-wide survey. 77 households respond, between 70–80% are not fussed or support each change.
March 2019
VPERA discuss outcomes with Greenwich council. Their response:
Will investigate costs to introduce speed bumps.
Cannot support CCTV due to installation and maintenance costs, and doubts of effectiveness. Make sure you take highest precautions to ensure your garage is secure.
Will monitor parking via visits from the Tenancy Enforcement Officer as there was strong opposition by some households to marking Yorkstone.
Next steps
We'll update you on further developments online, via noticeboards and at the all-residents' meetings.
For more information, contact hello@vanbrughparkestate.com or the council's Community Participation Team at lee.christie@royalgreenwich.gov.uk.
About the estate updated with 1960s articles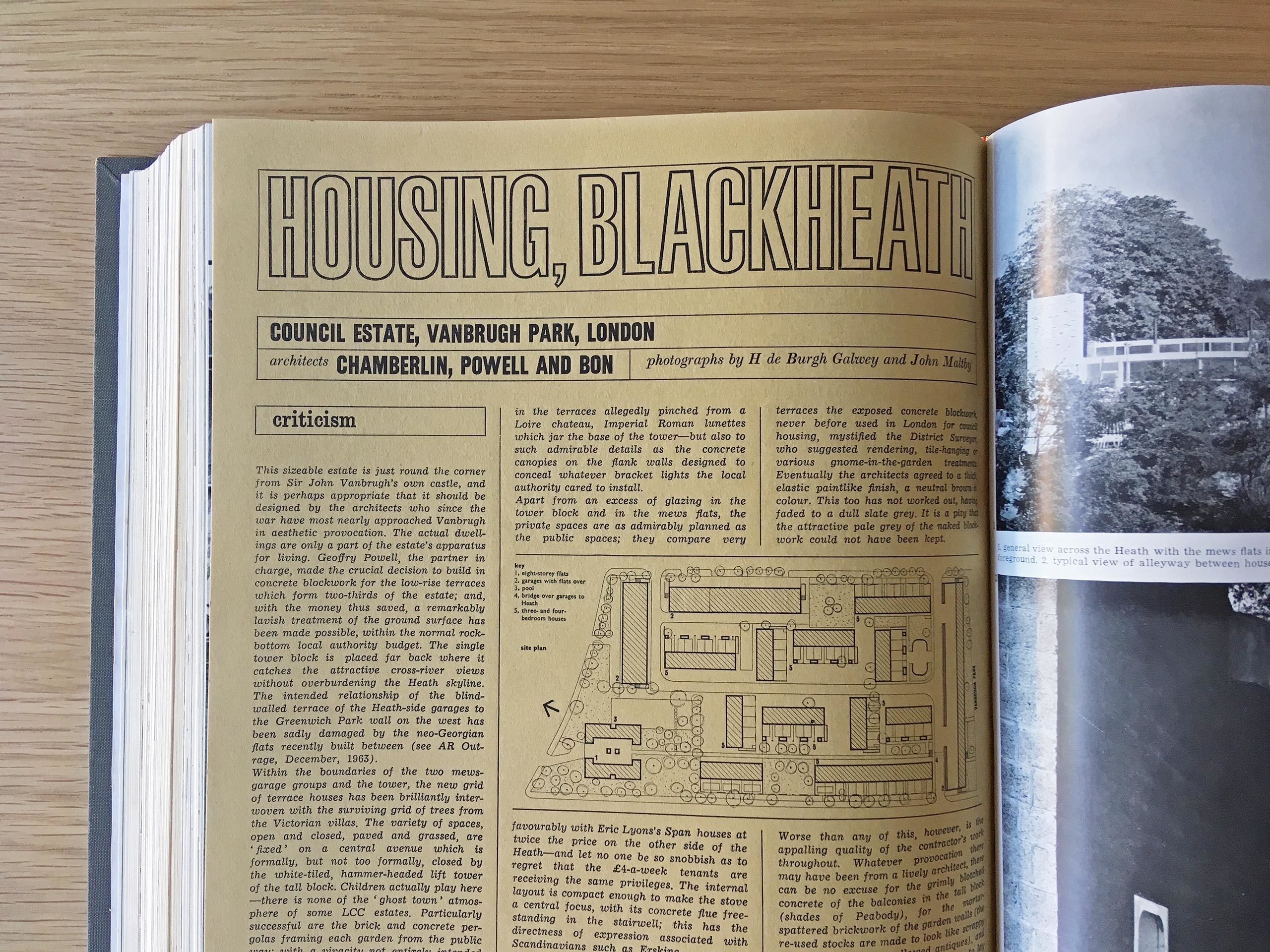 We've updated the history section of this site with links to download two articles written about Vanbrugh Park Estate. Both were published in November 1965 – two years after building was completed – and feature many interesting photos of the estate at the time.
All residents' meeting: February round-up
The minutes from February's all-residents' meeting are now ready to download.
VPE greeting cards for sale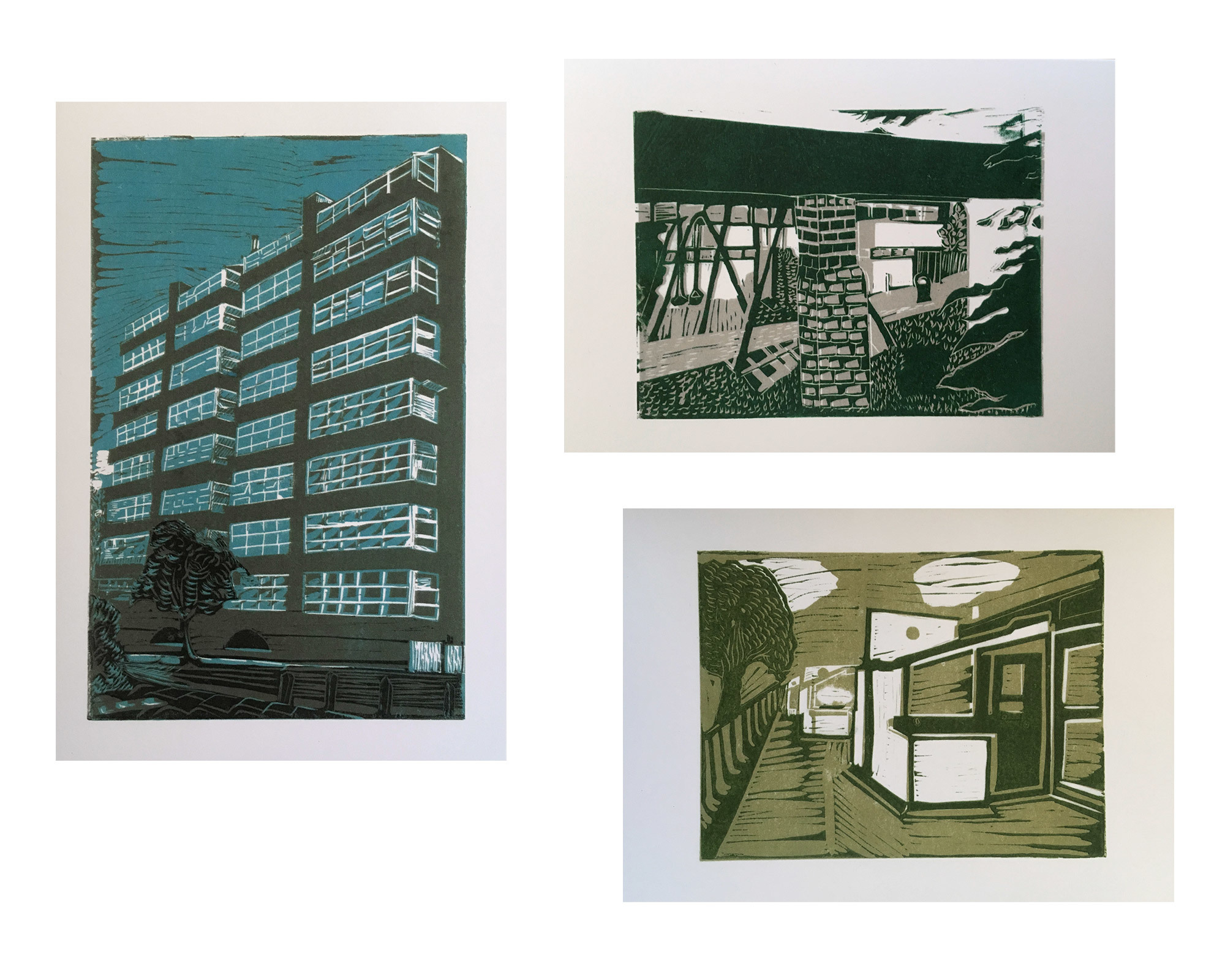 Resident Gillian Fairbanks has created a wonderful series of lino prints depicting three scenes around our estate.

Six cards for £6
Includes x2 of each print
Inside of cards are blank
Proceeds go to the Vanbrugh Park Estate Residents' Association
To buy a set, contact Martina at 62 Combe Avenue or email hello@vanbrughparkestate.com.